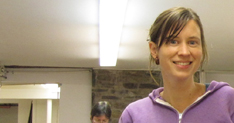 Courtney Murphy
Helena, Montana


Artist's Bio
Courtney first began working in clay while living in Brooklyn, NY. After a few years of working for potters around the city, she moved to Portland, Oregon to study at the Oregon College of Art and Craft. She is currently a long-term resident at the Archie Bray Foundation for the Ceramic Arts in Helena, MT.
---
Artist's Statement
My designs are influenced by simplified abstractions of nature, children's artwork, folk art, mid-century modern forms and shapes, as well as many books on ceramics and design.

I am intrigued by the variation and imperfections found in hand-made objects, and the ways in which these marks reflect the maker of the piece. A slight change in the profile or image on a cup determines whether a person will be drawn to one over another. It is interesting when a particular object speaks to me, and I decide that I'd like to have it in my life.

I love creating functional work because of the personal connection created when they leave my studio to become a part of somebody else's daily routine. When I look in my kitchen cabinets, I'm reminded of all of the people I have met over the past few years. It's nice to have these personal objects preserve the memories of places I have been and people I have met.
---