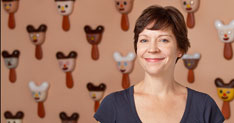 Michaelene Walsh
Baton Rouge, Louisiana


Artist's Bio
Mikey Walsh received her BFA from the University of Illinois at Urbana Champaign and her MFA from NYSCC at Alfred. She has held teaching positions at Massachusetts College of Art, the University of Georgia, the University of Washington, Virginia Commonwealth University and the University of California-Davis in addition to instructing at numerous alternative-learning venues such as Haystack School of Crafts, Anderson Ranch Arts Center, Arrowmont and Santa Fe Clay. Currently, Mikey is an Associate Professor of Art at Louisiana State University in Baton Rouge, where she lives with her husband and daughter. Her sculptural ceramic work is exhibited internationally and is also featured in the publication The Figure in Clay by Lark Books.
---
Artist's Statement
We exist in relationship. A certain empathy arises in me when I contemplate being "in relation to".
Often, with Art, relationships between things can shift and coalesce in such a way that something fresh or exciting is felt; what is common suddenly feels uncommon, what seemed ordinary- strangely moves us. It is that small moment of insight that can, perhaps, be held onto as memorable. I hope for my work to achieve this.

---
Artist's Resume
View Resume PDF
Popsicle-American Dream
NCECA Gallery Expo
Popsicle-American Dream
NCECA Gallery Expo