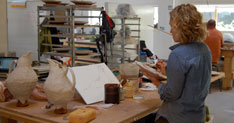 Mel Griffin
Rochester, Minnesota


Artist's Bio
Mel Griffin received her BA from Carleton College in 2001 and her MFA from the University of Minnesota in 2011. For several years, she worked in the outdoor industry as an educator and guide, traveling and leading trips all over the United States and South America. In 2003 she began her artistic career, working as an apprentice for potters Doug Browe and Jan Hoyman in Ukiah, California. She has since been a resident artist at Medalta International in Alberta, Canada, a visiting professor at Saint John¹s University in Collegeville, MN, and won the 2011 Leap Award from the Society of Contemporary Craft in Pittsburgh, PA. Currently, Mel is the 2012-13 Taunt Fellow at the Archie Bray Foundation for Ceramic Arts in Helena, MT. She enjoys making art, spending time with animals, and engaging with the natural world.

---
Artist's Statement
My art practice is essentially a statement of faith.
I have faith in the natural world's ability to fill us with a sense of wonder, to elevate our minds and spirits, and to reinvigorate our reverence for life.
I have faith in art's capacity to remind us of our own humanity, about which we so often seem to forget.
The biosphere is rich and intricate. All organisms are themselves wondrous, their individual traits the result of millions of evolutionary happenings and exacting conditions. Their interactions are particular and complex, and together create the physical and chemical equilibrium that affords human life. Both biologically and cognitively, humans are intimately linked to the natural world; the health of the landscape can affect the health of our minds.
We carry our memories, thoughts, and emotions into every space we enter. In so doing we define and assign meaning to our surroundings. My work is a reaction to the manner in which I perceive and organize space in my own life as well as to the order and disorder of cultural place. My practice emerges from the palpable physical and spiritual connection formed daily between body, mind, material, and the living world.
The work seeks to directly remind the viewer of his own physicality, as well as to rekindle his sense of wonder and discovery. Making and drawing allow me to investigate fluid and profound relationships between the body, handmade objects, and landscape, both inside the home and out in the world. Through imagery and metaphor, line and clay, I am exploring the manner in which corporeal experience, mindfulness, memory, and mood combine to create meaning in both everyday and imagined environments.
---
Artist's Resume
View Resume PDF